Source: kjendis.no  published 10.05.2009.
Written by ARNA VIKANES SØRHEIM. Photo by PÅL NORDSETH
Translation by Tessa Lande. English revision by Anni Jowett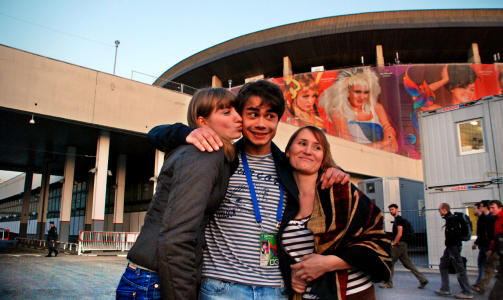 I became "Harry" (not trendy) overnight.
But Rybak believes it is 98 percent certain that he will go on to the Eurovision final.
MOSCOW (Dagbladet): On Thursday Alexander Rybak has to convince both the TV audience and the professional jury that he belongs in the final on Saturday.
With a dose of Drillo Mathematics, and the knowledge  that many people at home plan to follow Saturday's finale on big screen in assembly halls and pubs, Rybak now estimates that it is 98 percent certain that he advances further from Thursday's semifinal.
– I will not disappoint people. There is 98 percent chance for the final. There! Now I said it! he says to Dagbladet after he has left the stage for the last time before the dress rehearsal.
– Many prejudices
– I have to raise the stakes. I've always done that. I became officially "Harry" (not trendy) overnight when I participated in Melodi Grand Prix, he adds.
– Every year, you have to convince people who this singing competition is really cool. People are always won over by the show, but forget it every year and have lots of prejudices, but the show always inspires , Rybak means.
Since his arrival Monday, he has been interviewed by major TV channels of Russia, Belarus, Ukraine and Germany.
That has made hom instantly recognisable. The 22-year-old can no longer wander from the Olympic Stadium in Moscow to the waiting bus outside without being stopped by fans who want to take a picture, get an autograph – or a kiss on the cheek.
Didn't get a light projection
As Minsk-born and Russian-speaking, Rybak has an obvious advantage due to the audience at this year's host nation. And the fan sites on the net and bookmakers  rank him sky-high on the list of this year's favourites
– All that says nothing about how it will end. But it will make me very happy when I'm on stage on Thursday, because I know that there are many people who like my song, he says.
The last stage rehearsals gave him, the back singers and Frikar dancers four runs of the song, and every time the camera angles, dance moves and effects were extensively studied and adjusted by the NRK team.
Nothing is left to coincidence – but Rybak and the Norwegian Broadcasting does not totally control about how Fairytale will be presented to half a billion TV viewers next week.
– There are lots we've asked for, and not got. We wanted among other things a light  projection  on stage using  images of a Norwegian spring day, Alexander says. 
– Instead, it was a dark night!
The video with the interview
Recorded by Julia Bezbakh. Translation and subs by Tessa Lande