Alexander's year 2017 in review
Year 2017 is about to end so it's time to to look back at the nice moments Alexander presented us with.
This is an overview for all those who missed some of these concerts or other events like TV-shows or interviews, no matter if virtually or in the real life, or just want to rejoice memories.
It's only a list of the events – click on the pictures for more info, videos or photo albums.
2017 hamarosan véget ér, ezért ideje egy kicsit visszatekinteni azokra a szép pillanatokra, amelyekkel Alexander megajándékozott bennünket.
Ez itt egy összefoglaló azoknak, akik elmulasztották ezen koncertek valamelyikét vagy más eseményt, legyen az akár egy TV-show vagy interjú – mindegy, hogy virtuálisan vagy élőben éltük át, vagy éppen csak vissza szeretnénk emlékezni rájuk.
Amit itt látsz, az csak az események listája – kattints a képre, ha többet szeretnél megtudni, vagy videót, fotókat szeretnél látni.
JANUARY

4th-7th – Concert tour with Trondheimsolistene in Steinkjer, Frøya, Surnadal and Levanger, Norway / Turné klasszikus koncertekkel a Trondheimi Szimfonikus Zenekarral 4 norvég városban
27th – Performance in the live TV-show UK's Selection for "Eurovision 2017" "You decide", Hammersmith Eventim Apollo, London, UK
Fellépés az angol nemzeti Eurovíziós válogatón
28th – Club concert Electrum Club, Cologne and Prime Bielefeld, Bielefeld, Germany / Klubkoncertek Köülben és Bielefeldben
FEBRUARY
11th – Concert with students the Culture-School, Västerviks Teater & Konferens Västervik, Sweden /
Koncert zeneiskolásokkal Svédországban
MARCH

2nd-3rd – Seminar with string students and concert with the Symphony Orchestra of Gomel, Gomel Cultural Center in Gomel, Belarus / Mesterkurzus és koncert a városi szimfonikus zenekarral a fehéroroszországi Gomelben

11th – Performance in Icelands ESC-selection, RÚV TV, Reykjavík /
Fellépés, duett Greta Saloméval (Izlandot képviselte korábbi évben az Eurovízión) az izlandi nemzeti Eurovíziós válogatón

11th – Playing the character "William" in a Swedish parody of "SKAM" – Broadcast on Swedish TV /
"William"-ot alakítja a "SKAM" norvég TV-sorozat paródiájában

17th-18th – Concert with Greta Salóme, Hof Concert Hall, Akureyri and Harpa Concert Hall and Conference Centre, Reykjavík, Iceland / Greta Saloméval közös koncert az izlandi Akureyriben és Reykjavíkban
31st – Concert in Panevezys Event Centre "Vasaris", Panevezyz, Lithuania
APRIL
27th – TV-recording of "Beat for Beat" Christmas edition, NRK Norway – broadcast: 22th December 2017 /
Versenyző a "Beat for Beat" norvég zenei kvízműsorben, TV-felvétel, adásba került: dec. 22.
MAY
16th – Interview on the TV2's Entertainer channel (topic: covering Salvador Sobral's winner ESC-song 2017) / TV-interjú Salvador Sobral 2017-es Eurovízió-győztes dalának feldolgozásával kapcsolatban
16th – Interview in the morning show "God morgen Norge" on TV2 together with Hanne Krogh about Salvador Sobral's song he covered, his love for the song and why he made the music video as a tribute. /
TV-interjú Salvador Sobral 2017-es Eurovízió-győztes dalának feldolgozásával kapcsolatban

20th – Concert in ZIL Cultural Centre at the festival "Day of Norway", Moscow, Russia / Koncert a moszkvai Norvégia Napja Fesztiválon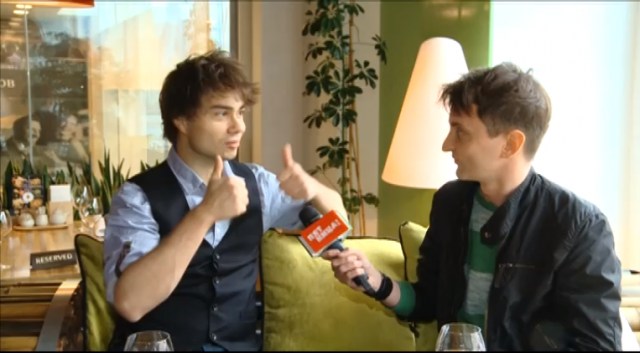 23th – Interview in "FridayNews" on the channel "FridayTV", Moscow, Russia / TV-interjú egy moszkvai TV-adónak (magyar felirattal is)
30th – Guest in the program "Kveldsåpent" with an interview together with Philip Cecil about their song "Looking my Way", Radio NRK / Rádióinterjú a Philip Cecillel közös "Looking My Way" című dallal kapcsolatban
JUNE
1st – Concert at Childrens' Day Festival, Elk, Poland / Koncert a lengyelországi Elkben
23th June 2nd July – Plays the role of Ole Bull in the theater play "Soot- spelet", Ørje, Norway /
Ole Bullt alakítja a "Soot-spelet" szabadtéri színpadi előadássorozatban
JULY
8th – Concert at Midsummer-Festival "Seto Jaanituli" in Käre, Estonia / Koncert egy Szentivánnapi fesztiválon, Észtországban
AUGUST
9th-10th – Recording and broadcast of the performace in TV-show Allsang på Grensen (TV2), Halden, Norway / Fellépés az Allsang på Grensen szabadtéri zenei műsorban, TV-felvétel és közvetítés

13th – Meet & Greet in Mr Cas Hotels, Istanbul, Turkey

16th – Meet & Greet, in Hotel Indigo, Warsaw, Poland

19th – Meet & Greet in Public Café, Athens, Greece
SEPTEMBER
2nd – Performance on The Eurovision Cruise, Helsinki/Tallin, Finland/Estonia/ Fellépés az Eurovíziós zenei sétahajón
16th – Performance at "Trollfest in Kragerø", Norway

22nd – Concert in Café Keerweer at Keerweer Parade, Rotterdam, The Netherlands
OCTOBER
4th-5th – Concert with the Janacek Philharmonic Orchestra, Multifunkcni Hala Gong Vitkovice, Ostrava and Měštanská beseda, Plzen, Czech Republic
14th – Guest peformer and judge in "New Star Factory" on channel Muz-TV, Moscow / Sztárfellépő és zsüritag az orosz tehetségkutatóban
21st – Premiere of the Fairytale-duet with Franziska Wiese in the live TV-show "Schlagerboom 2017" in Westfalenhallen, Dortmund, Germany
28th – Concert in Casa de cultura Alfaz at Cultural Festival "Spanish-Norwegian Days", Alfaz del Pi, Spain / Koncert a spanyol-norvég napok kulturális fesztiválon Spanyolországban
NOVEMBER
4th-11th – (Private event) Performance at the JOTUN paint factory opening ceremony in Malaysia, The Philippines and Myanmar
DECEMBER
2nd – Guest performer in the Russian TV-show "Ты супер! Танцы"/"You're great! Dances" , channel NTV, devoted to children left without parental care and adoring dancing. He supported 16-year-old Alina. / Sztárfellépő az állami gondozásban nevelkedő és táncolni szerető gyerekeknek rendezett tehetségkutatóján támogatta az egyik versenyzőt, a 16 éves Alinát, aki a Fairytale-re adta elő táncát.
25th November – 22nd December "Stille Natt Hellige Natt" concert tour